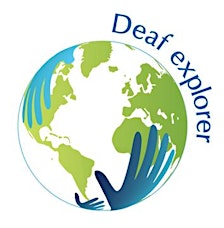 Deaf Explorer
Deaf Explorers social objective (vision) is equality for Deaf artists. We will break down barriers so more Deaf people are confident to take artistic leadership roles. Our purpose is to provide communication support so Deaf people gain skills and competences in their artistic work to be independent and successful. Our values are about equality, as defined by British Equality Law, with a focus on Race, Gender, Sexual Orientation, Disability. Our Values recognise that Deaf people are disadvantaged in life, and our aim is to transform talented Deaf peoples lives so they have the opportunity to fully participate and compete in the arts. Our values are about  facilitating new work and enabling Deaf people to demonstrate cultural difference, so that Deaf creativity is included in the Arts. Our values benefit the arts by expanding understanding of art forms from a Deaf perspective and promoting access to art forms with Deaf leadership. Our Business will create role models and establish benchmarks of good practice that demonstrate the value of Deaf artists gaining equality and fully participating in the Arts.
We will realise our values by implementing a consistent approach to artistic quality, selecting and monitoring who we support,  nurturing talented and ambitious emerging artists and maximising opportunities for Deaf artists making headway in the mainstream, so they have the time to develop their practice and make high quality new work for new audiences.
We will deliver our vision by building and improving relationships with Arts Sector, Deaf-led organisations and Deaf voluntary groups, School Education, Further & Higher Education, the Cultural industries sector, Health Sector, Charity & private sector.