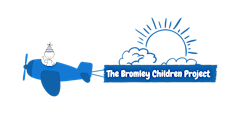 Early Intervention & Family Support Service
THE BROMLEY CHILDREN PROJECT is a borough wide service that supports families living in Bromley to create a safe, secure and happy environment for all children, by reaching out to expectant parents, current parents and young people aged up to 18 years; particularly those who are struggling and are in need of  additional help.
We have a team of dedicated family support and parenting practitioners who offer one to one family support focussing on the issues that you say you need the most help with.  The main aim of the practitioners is to support parents to protect and develop their children by helping to ensure that every child resides in a safe, supportive and happy family.
The Bromley Children Project is linked to all Children and Family Centres, and works with private, voluntary and independent Early Years providers in the borough.
The Children and Family Centres are open to all families although our services are targeted at families with children aged 0-5 and expectant parents.
INFORMATION, ADVICE & SUPPORT SERVICE provides:
- Impartial information, advice and support for parents of children with special educational needs.
- Information and advice for all parents on their child's transition from primary school to secondary school
COURSE & WORKSHOPS 
We offer a comprehensive range of courses and drop in sessions for parents and their children through our Children and Family Centres, such as:
Support for those who have experienced or witnessed domestic abuse.
Parenting courses.
Baby massage.
Healthy eating.
Targeted support groups.
Midwives clinic, baby clinic and breast feeding support.
Our sessions are ideal for parents and their children aged under five focusing on child development, school preparation, family support and parenting, health and wellbeing and acquiring new skills.