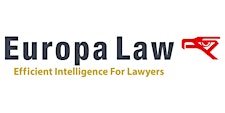 Europa Law
Europalaw is a boutique consultancy providing training and consultancy services to law firms, lawyers and other legal professionals. As consultants we bring many years of experience in legal practice and scholarship. We have worked with lawyers from a range of leading law firms and with leading university law schools in the United Kingdom and abroad. 

We deliver high quality and cutting edge programs in commercial, contract, common and cross border law and practice together with a range of know-how, compliance and support services to law firms, lawyers, commercial, Governmental and other organisations. Our programs provide training for solicitors which fulfill Continuing Competence requirements.
For those studying for entry to the legal profession we provide Masterclass programs and inividualised tuition.
Our services include:
Expert live programs
In house & customised programs
Expertly researched briefs on key areas of law & practice
Support for in house know and compliance issues


If would like to discuss your requirements or how we can assist  please call + 44 (0) 20 7117 2065 or drop an e-mail to info@europalaw.com
Sorry, there are no upcoming events