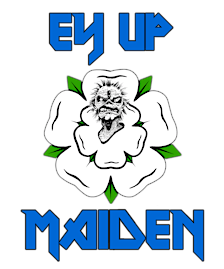 Ey Up Maiden
As lifelong superfans of Iron Maiden, the members of Ey Up Maiden have never had The Irons far from their playing.

All members of other bands, there was a desire to perform the iconic classics of the best band in the world, Iron Maiden with talented musicians who could carry them off well.
2017 was a wild ride and Ey Up performed a selection of hits to packed crowds all across Yorkshire. In 2018 they had the ambitious goal of recreating the World Slavery tour for audiences across the UK, with shows crafted in the mold of Live After Death and saw them reaching new heights and audiences with their energetic live show, packed full of glorious guitars, pounding drums and soaring vocals.
With no sign of slowing down, in 2019 they went a step further, and embarked on recreating another classic Iron Maiden live masterpiece. Maiden 88' and playing the Seventh Son of a Seventh Son album in its entirety from start to finish. The Seventh Son of a Yorkshireman tour filled pubs and clubs up and down the country, taking the audience on a journey through time with their incredible live show and finishing the year with a sold out, special home-town show in Leeds.
They have even more ambitious plans for the 2020 tour and are excited to be taking the show all over the UK to adoring Iron Maiden fans everywhere. What will they do next?
Watch this space!
Sorry, there are no upcoming events