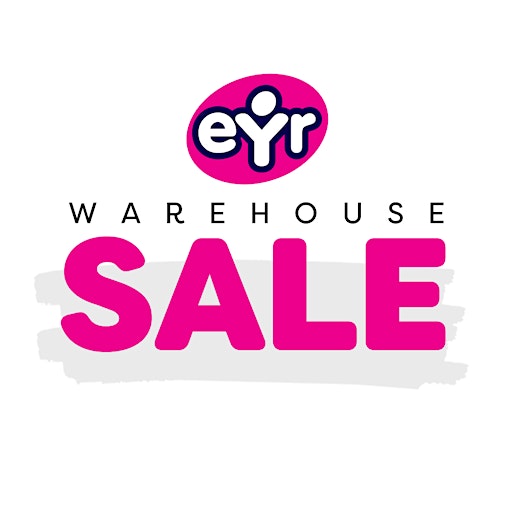 EYR Warehouse Sale
We would not be anything without our customers. That is why our Warehouse Sale is such an important event, giving us the chance to give something back to our loyal communities of childminders, nursery workers and teachers.
We understand how challenging it can be, making our sale the perfect opportunity to take away some of the stress of securing your vital educational resources, which are the backbone of both our industries.
The EYR Warehouse Sale is a highly anticipated sale which only takes place five times a year on a Saturday between 9:00am – 1:00pm (unless otherwise stated). It's when our warehouse at Early Years Resources headquarters in Manchester opens up to the public, and a selection of items are made available to buy at a heavily discounted price.
This could include tables, chairs, shelving units, outdoor units, role play units, art and craft supplies, EYFS curriculum resources and more!
It's the ideal sale for those who are looking to kit out their settings on a budget.
You must be an Ofsted registered establishment to attend.
Any questions? Contact us directly at events@earlyyearsresources.co.uk
Attendees
Please bring your Eventbrite tickets with you to the sale. If you do not bring confirmation of your reservation, you will not be allowed into the sale and we won't be able to refund you. Each individual should have their own ticket. Only one ticket will be refunded per person, so please only purchase tickets if you are sure you will all be able to attend.
You must attend on your chosen time slot and cannot attend any earlier/later sessions therefore please bare this in mind when planning your travel.
Please do not arrive more than 30 minutes before your allocated slot.
This sale is not open to trade. Items are available on a limited sale and the company will reserve the right to limit quantities sold or refuse sale.
Our Eventbrite refund policy enables attendees to cancel and ask for a full refund up to 7 days before the event.
Delivery to Greater Manchester available for £35 + VAT, for delivery options to the rest of the UK call us on 0161 865 3355.
The rules
Unfortunately no children under the age of 16 are allowed in the Warehouse for their own safety.
Prices shown in pictures and on products on the day are exclusive of VAT which will be added to your total when paying.
Card payments only - no cash.
Returns are not accepted, products are sold as seen.
We operate a first come first served policy. Sessions are 1 hour long.
Sorry, there are no upcoming events