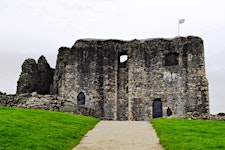 Friends of Dundonald Castle SCIO

The Friends of Dundonald Castle SCIO are a registered Scottish Charity.  Our Main objectives are public education, community engagement, the creation of local jobs and providing access to, and protecting the fabric of, our castle for Historic Environment Scotland.
Our Community Heritage & Education Project is working  to make the castle a community hub in the village,  promoting local pride in our heritage, castle and surrounding area. Through the engagement of the community and increased membership  it has brought new groups into the visitor centre and has established mutually beneficial relations with other community projects, groups and charities.
Regestered charity number: SC031541