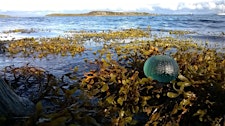 Glass Island Studios
Glass Island Studios is a small applied arts studio at Bridgend on Islay.  It's home to Kirsten Gow, glass maker and applied artist, who teaches many of the studio's courses.
Kirsten trained in glass and jewellery on the mainland and worked out of a shared workshop space in Glasgow before heading back across the water to be closer to her family.
Glass Island Studios • Isle of Islay
£40
Glass Island Studios • Isle of Islay
£40
Glass Island Studios • Isle of Islay
£40