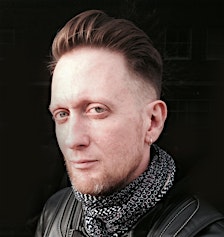 Guy Harries (Red Hat Opera)
GUY HARRIES is a composer/performer based in London. He performs with voice, electronics, and wind instruments, and is involved in projects ranging from garage rock to chamber opera, from sound art to electro art pop to multimedia musicals.
His compositions have been performed by contemporary ensembles such as: The Tate Ensemble, SOIL, The Roentgen Connection, Vocal Lab and LOOS, and have been broadcast and performed internationally. In 2000 he was awarded the Henriette Bosmans prize by the Association of Dutch Composers (GeNeCo).
He is also a singer-songwriter, practising electronic troubadourism with his laptop and voice. Currently he is working on a new project about Alan Turing. 
Guy collaborated with musician Meira Asher, with whom he co-founded the Bodylab Arts Foundation. He was also a long-time core member of the POW Ensemble based in the Hague. 
In 2012 he founded the Live Hazard collective with illustrator Valerie Pezeron. The collective explores the interdisciplinary links between drawing and sonic performance, and has organised a number of large-scale events in the UK, linking visual artists and musicians in a live performance context.
Guy has produced a number of multimedia works: Stereo Dogs, Nocturnaround and Imaginary Friends. His  chamber opera Jasser, toured throughout Holland in 2006/07. His opera Two Caravans, based on the novel by Marina Lewycka, with a libretto by Ace McCarron, won the Flourish New Opera Prize, and was produced by OperaUpClose in London in 2013. 

Guy is also a researcher, looking into the live performance aspects of electronic music. He completed his PhD in Electroacoustic Performance at City University, London and is a senior lecturer in music at the University of East London as well as Trinity Laban Conservatoire.
Sorry, there are no upcoming events