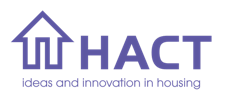 HACT - ideas and innovation in housing
We are a housing sector solutions agency and we believe that UK housing providers urgently need to embrace new ideas and radical innovation to continue to build great homes that people need in what is an ever tougher operating environment. 
Successful housing businesses in the UK in five years time will be unrecognisable from those we see today.  Those that survive and thrive will be those brave enough now to embrace radical reform and reinvent themselves from scratch.
We are uniquely placed to work closely with the housing sector to develop and share innovative approaches to meeting changing needs.
Sorry, there are no upcoming events