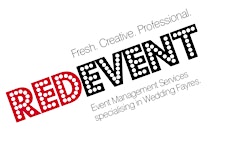 Hannah Red Event Wedding Fayres
Based in the North West, Red Event is a vibrant, fresh, creative and professional Event Management service that specialise in organising Wedding Fayres.
Red Event wedding fayres are based at stunning locations across the Merseyside, Cheshire & Lancashire featuring the regions leading wedding professionals offering expert advise on all your wedding requirements. All our wedding fayres are FREE ENTRY and showcase the lastest in wedding fashion on our catwalk shows. With live music and performances, exciting exclusive special offers and with lots more in store you will have to come along and visit our wedding fayre and experience the full wedding shopping experience. For further wedding fayre news, wedding ideas, tips & inspiration and exciting offers visit our website and social media pages.
Websites:
Red Event Website  |  Red Event Facebook  |  Red Event Twitter  |  Red Event Pintrest  |  Red Event Instagram |
Red Event Email: info@redeventweddingfayres.com