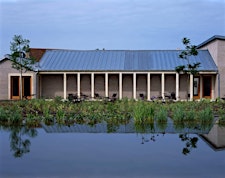 Hauser & Wirth Somerset
Hauser & Wirth Somerset is a pioneering world-class gallery and multi-purpose arts centre, which acts as a destination for experiencing art, architecture and the remarkable Somerset landscape through new and innovative exhibitions of contemporary art. A landscaped garden, designed for the gallery by internationally renowned landscape architect Piet Oudolf, includes a 1.5 acre perennial meadow, which sits behind the gallery buildings.
On-site restaurant, Roth Bar & Grill, serves seasonal, locally sourced food, and includes a site-specific bar created by Björn and Oddur Roth, the son and grandson of artist Dieter Roth. Opened in 2020, Durslade Farm Shop celebrates diverse produce from Durslade Farm as well as supporting local farmers, makers and growers in our community.
Hauser & Wirth Somerset is open with free admission to the public, six days per week, throughout the year.