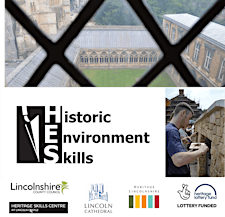 Historical Environment Skills
Thanks to the money raised by National Lottery players, a four year heritage project will ensure the skills needed to protect our historic environment are passed down to future generations.
Historic Environment Skills is a Heritage Lottery Funded project that will offer hands on training in skills needed to maintain and protect the historic environment in Lincolnshire and the wider East Midlands region. Delivered through a partnership between Lincolnshire County Council's Heritage Skills Centre, Heritage Lincolnshire and Lincoln Cathedral, 20 bursaries will be on offer over four years. They aim to allow those who have a genuine interest in the historic environment but have little experience the chance to gain the traditional and specialist skills needed to pursue a new career in heritage! In addition to the bursary funded traineeships, the project hopes to engage with as many people as possible at events and will have taster sessions on offer in traditional skills identified in the project.
For more information about Historic Environment Skills please email: HES@lincolnshire.gov.uk
Sorry, there are no upcoming events