Ignatian Spirituality Course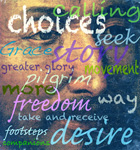 The Ignatian Spirituality Course offers you a vocational path:
- in and through studying and praying the Spiritual Exercises;
- reflecting on and practising the many and various skills of spiritual direction;
- discerning the variety of ways in which you may be drawn to respond to God's call to serve and to minister to others; and
this in due course will enable you to assist others in their own discernment.
You will engage in this formation through an exploration of how the Ignatian path is reflected in a variety of Christian spiritualties, followed by a deep immersion in the text of the Exercises and its meaning, and an integration of all that has been learnt and experienced during the process. This will enable you at the end of three years to see more clearly the next step of your journey and your calling in the accompaniment of others.
It is an ecumenical Christian course and is open to people of goodwill from all traditions. The course is led by an experienced staff of lay people, religious and clergy, and runs for one day a week (11am to 4pm) over three years.