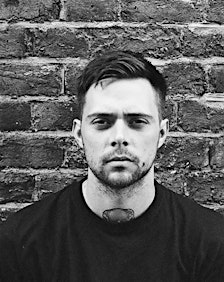 Joss Carter
Joss Carter is a contemporary dance theatre performer and movement specialist, live artist, choreographer and teacher currentlybased in London. Born and raised in South Shropshire/West Midlands, he studied at the Northern School of Contemporary Dance (2006-2010) and has toured internationally with the likes of Gary Clarke Company, T.R.A.S.H. Lea Tirabasso, BalletBoyz. He also works in film and TV as a movement specialist including titles such as 'The Mummy' starring Tom Cruise, 'Anna Karenina' starring Keira Knightly and 'Curfew' starring Sean Bean.
Joss creates and produces his own workshop intensives 'Flesh & Bone Interrogations' and performance production events including 'The Ravenous Flight of Misanthropy', SALVATION', Misery Flesh', 'Anatomy of the Heart'.
He is also co-ordinator and co-owner and prograpmmer of K5 Studio, London. Through K5 he is able to support artists and create many fun and interesting events for dancers including professional workshops and and Dancers Massage Exchange. 
More info can be found at www.JossCarter.co.uk
Sorry, there are no upcoming events