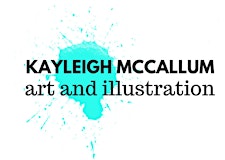 Kayleigh McCallum Art and Illustration
Kayleigh McCallum is a professional Artist and Illustrator based in Glasgow.
Kayleigh's main aim is to show that ANYONE can draw! And all classes are set up to show everyone really easy ways to draw or paint whatever they like - with skills that are transferable to other drawings/paintings.
Art should be fun, not like a classroom, and that's what we do with a space within artist studios.
At the moment, all classes have moved online - it's just as much fun!
Kayleigh is fully disclosed and insured.
Sorry, there are no upcoming events