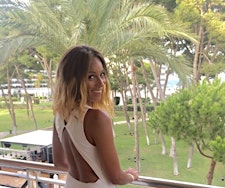 Keeley Dann
Heyyyy Im Keeley, a Self-Love/Relationship Coach and Ex Professional Dancer to the Stars...
A wee bit about me...I had a decade long career as a professional dancer working with Artist's including, Rihanna, Robbie Williams, and Kylie Minogue to name a few. I spent almost the same amount of time teaching women how to love themselves, and build confidence through dance and I continue to empower women in this way now. 
4 years ago I hung up my performance shoes to focus on my second love, Coaching. I Coach women specifically in the realm of Self-Love and Relationships, because in order to have wildly healthy, happy and loving relationships with others, we need to create this with ourselves. Growing up I had no idea what the term 'Self Love' meant and it was only through my own emotional struggles and experiences within my career and relationships, that I eventually went on my own journey of self discovery and healing. I realised how powerful our mind is in determining how we feel about ourselves and how we show up to the world and our relationships. I learned how important it is to have a strong healthy relationship with yourself first, because it is us who decides whether we are worthy of receiving love from others and the type of relationships we will accept.
Through much personal development work, coaching and therapy, I have learned how to love and accept myself, which has in turned had a dramatic impact on my life and particularly my relationships. I am now super passionate about other helping other women love themselves, so they can have the life and relationships they deserve.  
Through my 1:1 Coaching practice I guide and support women to reconnect back to who they are, build confidence and take the reins back on their lives. As a Coach I am passionate about really helping the women I work with become aware of the limiting beliefs, subconscious stories and unhealthy patterns and behaviours holding them back from having the relationships they deserve. Until we heal our wounds and love ourselves, we will continue to accept, settle or stay for less than we deserve, so it's up to us to do the work. For more informations on my Coaching Programs, head over to my website or pop me an email.
As I mentioned I also run regular Dance classes and Workshops, focused on helping women feel more confident and empowered within. My Sessions are all about helping create time for yourself, you let go of your inhibitions and feel confident from the inside out. Dancing is not only for the body but also for the soul. I pride my classes on creating a fun, supportive and empowering atmosphere, where you'll meet other likeminded women all on a similar journey. You'll not only learn to move it like Beyonce which will leave you feeling more confident, empowered within but you'll also find a deeper connection and love for your whole self.