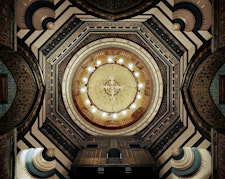 Leighton House Museum
Located on the edge of Holland Park in Kensington, the house is one of the most remarkable buildings of the 19th century.

The house was the former home and studio of the leading Victorian artist, Frederic, Lord Leighton (1830-1896). The Arab Hall is the centerpiece of the house. Designed to display Leighton's priceless collection of over a thousand Islamic tiles, mostly brought back from Damascus in Syria, the interior with its gold mosaics, marble columns and golden dome evokes a compelling vision of the Orient.

The opulence continues through the other richly decorated interiors, with elaborate mosaic floors and walls lined with peacock blue tiles by the ceramic artist William De Morgan. On the first floor is the Silk Room with its display of paintings by Leighton's friends and contemporaries and the grand painting studio with its great north window, dome and apse – the room in which all Leighton's important later works were produced including the celebrated Flaming June.