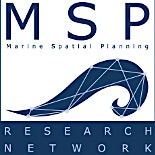 Marine Spatial Planning Research Network
We are a group of scientists, policy-makers and practitioners engaged in the constructive development of MSP through critical thinking, teaching, research, consultancy and implementation.
We have different backgrounds, skills and experience. We seek to learn from each other and develop new, inventive approaches to planning the seas in the interests of their well-being and sustainable use.
Marine spatial planning seeks new spatial approaches to regulating the use of the sea, so that conflicts between maritime activities are minimised, more efficient use is made of resources, and valuable marine ecosystems are protected.
We bring together academic expertise from across the social and natural sciences, such as marine ecology, terrestrial planning, geography, and political science, working alongside practitioners, consultancies and policy-makers. We are an informal network open to new participants who share our overall aims and encourage early-career researchers to join us.
We seek to contribute to progress in marine spatial planning by applying our different perspectives through critical thinking and research. We are actively involved in projects at international and national levels in which practice is being assessed and developed further. Our conviction is that MSP does not have a single form, but will reflect the different contexts in which it is developed.
Sorry, there are no upcoming events