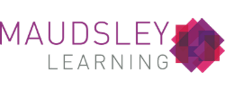 Maudsley Learning
We are a new, dynamic and forward facing social enterprise with the strategic vision to support and provide world class and accessible learning in mental health and wellbeing. We are a Community Interest Company and our sole shareholder and landlord is the Maudsley Charity.
We facilitate and originate learning projects where the outcome is the enhancement of mental health knowledge, skills, awareness and wellbeing.
As well as supporting other groups and organisations with their own learning, Maudsley Learning develop our own learning events delivered face to face at the ORTUS and virtually through Maudsley Learning Online. These could be anything from short courses and masterclasses to e-learning modules and conferences.
Working collaboratively with our clinical and academic partners at South London and Maudsley NHS Foundation Trust (SLaM), Kings College London (KCL) and the Institute of Psychiatry (IoP), Maudsley Learning creates innovative, forward thinking, relevant and informative learning events for a broad audience. Our audience includes those from clinical and corporate environments, as well as service users, patients and carers, young people, students, the police, the judiciary, charities etc.
To learn more about Maudsley Learning Events please visit this page.
Sorry, there are no upcoming events