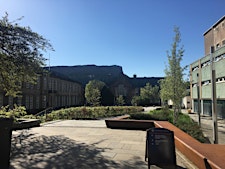 Moray House School of Education and Sport
Moray House School of Education and Sport, University of Edinburgh, was founded almost 200 years ago and continues to make a major contribution to the fields of education and sport both worldwide and in Scotland today. In that time, our staff, students and alumni have influenced, improved and transformed learning and teaching and wider educational policy in the UK and beyond. Our alumni include Great Britain's most successful Olympic athlete, cyclist Sir Chris Hoy MBE, and trailblazing teacher and race relations pioneer, Soraj Lal.
There are currently over 3000 students in the School across a wide range of undergraduate, postgraduate and initial teacher education programmes, supported by around 300 academic, administrative and technical staff.
Moray House conducts research across all aspects of education, learning, and sport. The School's seven thematic hubs – Advanced Quantitative Research in Education, Children and Young People, Digital Education, Language Education, Social Justice and Inclusion, Sport-related Research, and The Teacher, Curriculum and Pedagogy - supplement the work of research centres and groups and are aimed at fostering emergent areas of research excellence.
We are the leading School of Education and Sport in Scotland – ranked first for both educational and sport and exercise sciences research power, according to the Research Excellence Framework (REF) 2014. The REF also places Moray House in the top five in the UK for educational research and top 10 in the UK for sport and exercise research, confirming the School's reputation as a UK centre of excellence in these fields. We consistently rank in the top tiers of global education and sport-related studies.
Sorry, there are no upcoming events