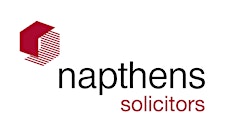 Napthens LLP
Whether you're an individual or representing a business, when it comes to legal advice, you want the right team on your side.
You need experts in their field, experienced lawyers who will help you understand the way forward and work with you to ensure the right result for you.
Our team provides a range of workshops, events and conferences to provide you and your business with legal updates, advice and information. 
Take a look at our range of events below and if you have any questions, email us marketing@napthens.co.uk