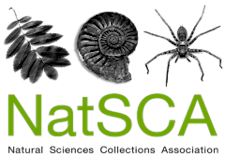 Natural Science Collections Association (NatSCA)
The Natural Sciences Collections Association (NatSCA) is a UK based membership organisation and charity run by volunteers from the membership.
Our mission is to promote and support natural science collections, the institutions that house them and the people that work with them, in order to improve collections care, understanding, accessibility and enjoyment for all.
Our meetings (events, training, conferences) are open to all, and are targeted towards providing the best possible service to our members and others working with and in support of natural science collections. Further, we hope that our events provide an opportunity to learn with and from people from beyond our sector.
Our meetings policies can be found on our website at http://natsca.org/meeting-policies
Find out more about NatSCA at http://www.natsca.org
Sorry, there are no upcoming events