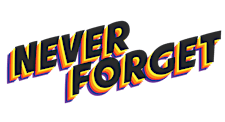 Never Forget
Come with us on a journey back to the good old days of the 90's and 00's where our resident DJ's play everything from the biggest Pop Hits, R&B Grooves and TV/Movie Soundtracks to the greatest Indie Anthems and Classic Rock singalongs.
Expect all the unforgettable chart favourites from the likes of S Club 7, Take That, Five, Destiny's Child, Britney & Christina, Backstreet Boys, TLC, Spice Girls, to Rhianna, Pink, Kanye, Eminem & Snoop Dog. You will be spoilt for choice!!
And not forgetting classic anthems from bands like The Killers, Oasis, KOL, Blur, Blink 182, Green Day, Foo Fighters to OutKast, Limp Bizkit, Linkin Park & Sum 41. There really is something for everyone!!
Plus a dose of classic TV and Movies soundtracks from programs you'll never forget such as High School Musical, Friends, The Fresh Prince to American Pie, Pulp Fiction, Trainspotting and Human Traffic.
Never Forget are nights not to miss as we celebrate 2 decades of non stop, wall to wall, classic party bangers!!
ocean rooms • Gorleston-on-Sea
£6.63 - £16.59