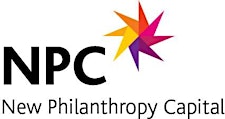 New Philanthropy Capital
New Philanthropy Capital (NPC) is the think tank and consultancy for the charity sector. We help charities, foundations, philanthropists, impact investors, social enterprises, corporates, and the public sector to maximise social impact in the lives of the people they serve.
Visit us and learn more abut our work: www.thinkNPC.org
To read our Events Terms & Conditions visit: https://www.thinknpc.org/wp-content/uploads/2018/05/NPC-events-terms-and-conditions.pdf. We do not charge VAT on our events.
To read our privacy policy visit: https://www.thinknpc.org/privacy-policy/.