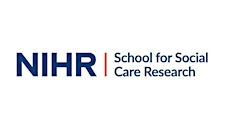 NIHR School for Social Care Research
The NIHR School for Social Care Research (NIHR SSCR) is one of the leading funders of research into adult social care practice in England. Established in 2009, our research findings will support new developments in social care policy and practice. The current phase (2019-2024) is led at LSE in partnership with King's College London and the Universities of Birmingham, Bristol, Kent, Manchester and York.
The School is directed by Professor Martin Knapp (LSE) and is part of the National Institute for Health Research (NIHR). Since 2009 we have commissioned over 160 research studies and a number of reviews of methods and evidence scoping studies, spanning all client groups, diverse care settings, and major practice issues. Findings from many of our studies can be found on our website.