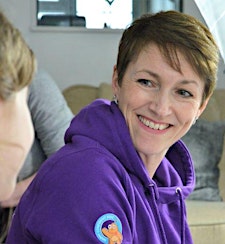 Nikki Emerton
Before becoming a practitioner, Nikki spent most of her working life in administration with a variety of roles in both London and Salisbury. From an early age, Nikki experienced many personal struggles, and this continued into her adult life. In 2009 Nikki became very ill with several diagnoses, mainly to do with mental health and as a result, lost her job with the NHS. She then found help through a training course that centred around Neuro-linguistics and the teaching of life skills to empower her back to health.
Since completing the course, Nikki returned to work, became physically and mentally well, running several half-marathons and a marathon. She then went on to train as an NLP practitioner with a passion for helping others of all ages take back charge of their health. During this training Nikki discovered that many of her struggles in early life were as a result of not being able to access and learn key strategies and skills for life, leading to a lack of resilience in adulthood. From this learning, Nikki teamed up with Laura Dumbleton-Jones to create Happy Confident Kids, specifically designed to teach children those skills needed to become confident and resilient children and capable adults.
Nikki lives in Salisbury with her partner and is a Mum to 4 children, the 2 younger children still at home.
Sorry, there are no upcoming events