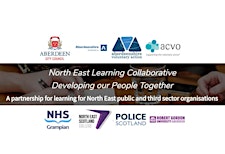 North East Learning Collaborative
The North East Learning Collaborative (NELC) is made up of public and third sector organisations across the north east of Scotland and has been delivering shared events for 10 years. Since 2007, we have been working jointly in the design and delivery of a range of learning and development activities including CPD events, management and leadership courses, a mentoring scheme and coaching. Through the work of NELC, we have maximised the use of our resources through shared learning and helped the development of closer partnership working across the region. Our aim is to design and deliver the learning events that suit your needs and support organisational goals, whether these are national or "local".
Our courses are open to members of the NELC only.  If you are unsure if you are a member of NELC CLICK HERE and contact your representative organisation.
Sorry, there are no upcoming events