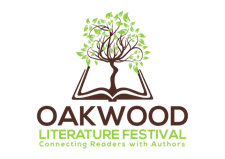 Oakwood Literature Festival
The Oakwood Literature Festival is a non-profit making organisation providing a public event celebrating books and reading. The festival was founded and launched in 2018 by author, Dawn Brookes who wanted to provide a 'book focussed' event for all ages in the local area. 
"All being well, the Oakwood Literature Festival will become an annual event and will grow. My vision is that it will be able to support itself through ticket sales, sponsorship and the cafe and I would love it to become a yearly book focused event held annually in Oakwood across all of the main venues that we have within a half mile radius of each other." 
Sorry, there are no upcoming events