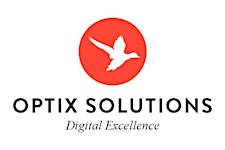 Optix Solutions
We are a leading digital services agency in the South West, offering a wide range of services from web development and design, digital skills training and digital marketing. Quite unusually for our relatively new field, we've been in the business for over 20 years, growing from just three students at the height of the dot com bubble to where we are now, employing 20 experts in their respective fields. We work in a strategic way, making sure to approach all our projects with a long term mindset, and aligning activity to wider client goals and objectives.
As we have so many facets of expertise in house, quite often we'll have input on projects from multiple members of the team, meaning that we can focus on cohesion across all digital activity. For example when building websites, the digital marketing team will always have input into SEO considerations.
We're proud to work with key names in the South West including the University of Exeter, Devon Partnership NHS Trust, Crealy, Darts Farm, Water Babies and Thirsty Work.
Most importantly, we consider our relationships key at Optix, with each other, with our clients and with the local community – you'll see us out and about all over the South West being passionate about our brand and what we do.
Our Values are to Delight, Support and Engage both internally and externally.