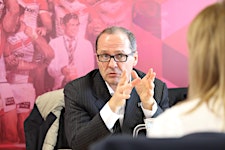 Oreste Maspes, Business Doctor for London
 Having gone through the transition from corporate to SME, Oreste understands the importance of a pragmatic approach in helping business owners, and often uses real examples and experience" to simplify concepts that can appear difficult at first.
Graduated in Business Management with a Master in Digital Marketing, Oreste began his career in an export sales management role in the Italian fashion/textile industry. Moving into the consumer electronics, document imaging and printing sectors he pioneered a digital transformation, creating the first Digital Business Unit for Kodak in Italy. This success led to a promotion to European responsibilities and a move to London.
As an international business leader, Oreste has always cultivated his passions for different cultures and technology, winning a prize for successfully integrating a mixed cultural team while covering managing director and general management roles in Milan, London, Warsaw and Geneva. His responsibilities stretched across Western and Eastern Europe and the Middle East, including managing business units and countries worth $100M+ in turnover.
After leaving a successful corporate career in 2012, Oreste created his own business and worked in recruitment services and SMEs consulting based in Geneva, with clients in Italy, France and Switzerland before moving back in the UK in 2016.
Sorry, there are no upcoming events