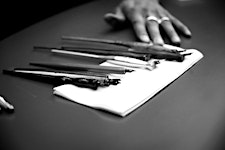 Paul Antonio Scribe
Paul Antonio is the author of 'Copperplate Script - A Yin&Yang Approach'. A new and innovative way to look at and learn to write copperplate script. This new method simplifies the approach so anyone can learn the script. 
Paul's research into the geometry of writing has led him to a new vision of how we put pen to paper. This research is so exciting as it gives the participant access to quicker learning and application of calligraphy. 
Being passionate about lettering history, Paul has worked on copying Ancient Hieroglyphs in Egypt for the MET, NYC and is one of the four Crown Office Scribes who handwrites some of the laws of the UK unto vellum for signing by Her Majesty The Queen. He also studied English Palaeography and Manuscript History.