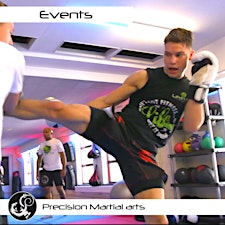 Precision Martial Arts, Camberley
It's not what we do, It's how we do it...
We have been teaching Martial arts the Precision Way since 2001. Wether it's about getting into shape and losing a few pounds or gaining confidence.
We specialise in helping individuals through the martial arts into becoming the best they can be. Our way focuses training, nutrition and relaxation. 
Why not try one of our Taster Sessions to experience how our methodology works...
Precision Martial Arts • Camberley
Free