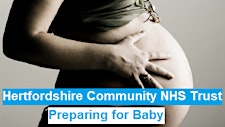 Preparing For Baby Hertfordshire
 We'll be running our Preparing for Baby online course until physical courses are permitted.
 FREE online course for expectant mothers between 25- 34 weeks pregnant, living in Hertfordshire. This is a new online version of 'Preparing for Baby' produced by Family Support staff, Health Visitors and Midwives from our teams in Hertfordshire and contains all the essential information you will need. 
About Preparing for Baby Online
Preparing for Baby online is a pre-recorded course, divided into short bite sized videos that can be watched with your partner at a time that is convenient for you.
SCROLL DOWN TO SEE ACTIVE COURSES
IMPORTANT MESSAGE ! -- Ensure you check your "Confirmation Email" and follow the instructions under "Additional Information" section after booking the course on Eventbrite.
DON'T MISS OUT ON NEW UPDATES
Follow us on Instagram - @hctpreparingforbaby