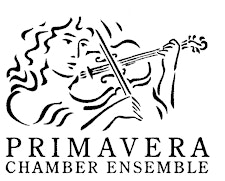 Primavera Chamber Ensemble
Formed in 1986 by its Artistic Director, violinist, Paul Manley, the name of the group is based on the Italian word for spring, reflecting the joie de vivre that these musicians bring to their performances. Primavera as one of Britain's finest ensembles has created an enviable reputation with an accolade of reviews at international festivals in Britain, including Brighton, Canterbury, Newbury, and also abroad, in the Netherlands, Italy, Malta, France and Slovenia. They have made regular appearances on the South Bank and at the Wigmore Hall and have specialised in presenting chamber music series in country houses in the UK. This included two TV series entitled Music in Mansions for Meridian Television.
 As a small 'chamber band' they have recorded highly appraised cds of Mendelssohn String symphonies, Russian String works, a French and English collection of string music and as an ensemble, the Mendelssohn's Octet and First string quintet.
Last autumn they are appearing in a tour of eleven concerts throughout the length of England. Recent tours abroad included concerts at the Almera Festival in the Netherlands, Vasto, Parma, Emilia Romagna, Sadurano Festivals in Italy and Ljubljana Festival in Slovenia.
New commissions have included works by leading composers such as Paul Patterson, Patrick Gowers, Gavyn Bryars, Malcolm Lipkin and Phillip Glass. The band has also worked with other prominent artists including Larry Adler, Robert Cohen, Raphael Wallfisch, Emma Johnson, Sir David Wilcocks, Michael Chance, and Robert Tear
"In the new recording by the Primavera Chamber Ensemble, Mendelssohn's Octet unfolds with warmth and naturalness…
The whole performance is suffused with sunshine and well-being.…crowned with some of the loveliest fiddle playing you will ever hear"
.Daily Telegraph
"… an exhilaratingly buoyant and rhythmically taut performance."
 Evening Standard
"…they shimmer with delicacy and perfect control. A dream of a performance!"
The Times
"a notably fine performance of considerable insight and commitment"
Musical Opinion
Hendall Manor Barns • East Sussex
£27.39