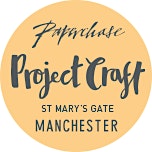 Project Craft - Paperchase, Manchester
Get Your Craft On
Quench your DIY thirst with Project Craft! From scrapbooking to kids crafts, there's something for everyone. Walk in empty handed, walk out with a make to be proud of.
 
Where it's at
Get down and crafty Paperchase St Mary's Gate, Manchester. Project Craft workshops are also held at our other flagship stores, Tottenham Court Rd, London and Buchanan St, Glasgow.
 
It's all about Us
With a wide range of design-led collections and quality art supplies available in-store, we're always looking to inspire customers.
Sorry, there are no upcoming events