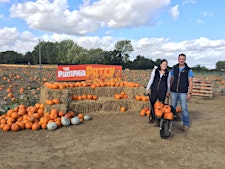 Pumpkin Patch Farms Ltd - T/A Foxes Farm Produce
We grow thousands of pumpkins annually and each year we plant thousands of Christmas trees to add to our ever growing Christmas Tree Forest!  
We are pumpkins wholesalers and primarily supply wholesale outlets and retailers which includes distribution throughout Essex, Suffolk, Hertfordshire, Greater London, Scotland and Ireland. We are proud to supply to East of England Co-Op supermarkets and Chelmsford Star Co-Op supermarkets. We also supply fellow pumpkin patches up and down the country!  
We also have Pick Your Own pumpkin patches in Basildon and Colchester open during late September and October where you can come to the field and pick your own pumpkin! Picking your own pumpkin is a fabulous experience for families, both old and young... 
During the summer months we run our Farm Mud Run obstacle course, and our Christmas Trees are on sale direct to the public from our retail sites in December.