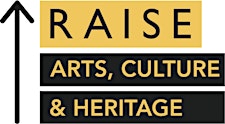 RAISE: Arts, Culture & Heritage
RAISE: Arts, Culture & Heritage is a four-year programme of support to individuals who raise funds within the arts and culture sector across England (and outside Greater London) through networking events, mentoring and bursaries to enable you attend our events and access professional development opportunities.
We are an Institute of Fundraising programme funded by the Arts Council England. We work in partnership with IoF Cultural Sector Network, Black Fundraisers UK and Young Arts Fundraisers.
Sorry, there are no upcoming events