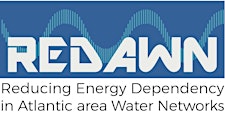 REDAWN
The water industry is the 4th most energy intensive sector in the Atlantic area, responsible for significant contributions to climate change and reductions in the competitiveness due to the associated costs.
REDAWN aims to improve the energy efficiency of water networks through the installation of innovative micro-hydropower technology. This technology will recover wasted energy in existing pipe networks across irrigation, public water supply, process industry, and waste-water network settings.
REDAWN is a 3-year research project bringing together 15 partners from 5 countries around the Atlantic coast working towards greater efficiency in water networks.
Our aim is to foster the adoption of hydropower energy recovery technology in built water networks in the Atlantic Area, and to develop an adequate institutional, social and technological environment to foster greater resource efficiency in water networks.
This project is co-financed by the European Regional Development Fund through the Interreg Atlantic Area Programme
Sorry, there are no upcoming events