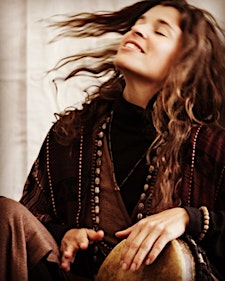 Regina Martin
Regina is a multidisciplinary musician who weaves her drumming, singing and dancing to create experiences for people to come together and reach high states of consciousness for transformation to take place, bringing joyful feelings of inspiration and motivation into your daily life.
From very early age she had a passion for tribal music and their spiritual ceremonies. This passion moved her to travel around the world to learn the many ways people use musical rites as a gateaway to other realms.
She spent over ten years travelling to West Africa to learn the traditional drumming and dancing directly from master musicians in the villages. She participated in sacred rituals that transformed her visions and open her eyes to the importance and understanding of the element of music within the community, personal and spiritual connection.
Her innate curiosity and hunger kept her learning as much as she could from other traditional musical cultures from around the world giving her a wide rage of influences, which makes her very fluent in her capacity to fuse and blend many styles. 
For the last six years she felt the call to learn about the power of sound and chanting as another tool for transformation and healing. She became passionate about the ancient knowledge behind singing Sanskrit mantras, Medicine music from the South America, Mongolian chanting, overtoning and sounding, all which has become an essential part of her sessions. 
She creates unique musical journies with her own personal way and unique femenine flavor, combining the many elements she has learned along her many journeys, the sharing from the elders and what comes from her own meditation practice. 
"Every session is different, I believe magic happens when you allow it to flow", Regina
Her aim is to share her ways and bring others to a space that connects them to the deepths of their heart, shift the many layers of unwanted emotions and thoughts; to experience the joy of letting the positive vibrations run through you and to feel united to the source and to one another sharing the big universal language of music.
"Music is a moral law. It gives soul to the universe, wings to the mind, flight to the imagination, and charm and gaiety to life and to everything." — Plato
Sorry, there are no upcoming events