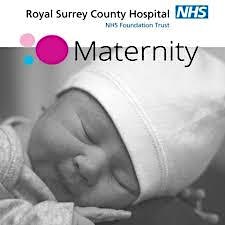 Royal Surrey County Hospital
Antenatal and Birth Preparation Classes
WELCOME TO THE ROYAL SURREY MATERNITY UNIT. THESE CLASSES ARE FOR PARENTS TO BE WHO HAVE BOOKED TO HAVE THEIR BABY WITH US AT THE ROYAL SURREY COUNTY HOSPITAL IN GUILDFORD.
We are running a reduced schedule due to Covid-19, but a lot of our most popular courses are now being taught Online!  It is anticipated that classes will remain online until October, although the situation is being continually reviewed.
At The Royal Surrey County Hospital, we try to ensure that we have an antenatal class to suit everyone. All the classes are led by trained and experienced midwives and physiotherapists and taught using the most recent research and evidence. We pride ourselves on providing honest, accurate and evidence based information so that women and their birth partners can leave the classes excited, informed and most importantly with realistic expectations. Our classes cover ladies living in Guildford, Godalming, Farnham and Ash as well as all the surrounding towns and villages.
You may attend classes at any of our venues, but a lot of mums would like to attend classes closer to them so they can meet other local mums and dads. Our classes are led by one of our midwives so you will receive up to date, evidence based and realistic information and all of the money from the private classes goes to the maternity unit!
Please note that we operate a fair use policy.
The FREE classes are for mum's booked to have their babies with us.  Our Birth and Beyond classes are available to everyone.
You and your selected birth partner may attend one of each type of course per pregnancy i.e. one antental workshop, one breastfeeding class and one your pregnancy matters evening etc. Multiple booking may be cancelled without notice. 
We kindly request that you if you are unable to make it to a booked class that you cancel at least 48hrs prior the event so that we might make your space available to other parents. Failure to cancel and return your ticket(s) will result in you being blocked from booking any further free classes.
Please check individual class instructions carefully as to wether your booking requires one ticket per family/couple or wether you need to select a ticket per person. 
PLEASE NOTE THAT WE USE SIGN IN SHEETS AT ALL OF OUR EVENTS. 
All of our online teaching is facilitated via the Facebook Live feature and Facebook Rooms within dedicated Facebook groups. Please be aware that although the groups are private and people outside of the group can not see what you have shared the groups are not hidden. This may mean that your membership of the group may be visible to your Facebook friends.
If privacy is a concern for you you are welcome to create an alternative blank profile for use within the groups. Just please ensure that when you request to join the group you notify us of the name on you Eventbrite booking. The information on your joining request can only been seen by the groups admins.
Refunds:
Free Classes:A reminder will be send 48 hours before the star of the event. You can return your free tickets up to an hour before that start of the event. 
Paid classes: You are able to claim a complete refund 30days prior to the start of your chosen event. Please take note of the recommended gestations for the courses. Attendees are welcome at any gestation but we recommend that you book your classes in good time. We are unable to provide refunds for courses (whole or incomplete) where the individual has been unable to attend due to going in to labour at term (37 weeks+).