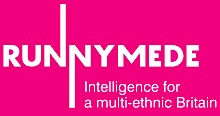 Runnymede Trust
Runnymede is the UK's leading independent race equality think tank. We generate intelligence for a multi-ethnic Britain through research, network building, leading debate, and policy engagement.
Runnymede is working to build a Britain in which all citizens and communities feel valued, enjoy equal opportunities, lead fulfilling lives, and share a common sense of belonging.
In order to effectively overcome racial inequality in our society, we believe that our democratic dialogue, policy, and practice, should all be based on reliable evidence from rigorous research and thorough analysis.
Our authoritative research-based interventions in social policy and practice, and our public engagement with decision makers, will assist policy-makers, practitioners, and citizens, to reduce the risk of our society being blighted by racism and discrimination to the detriment of us all.
Runnymede is independent and funded by donations. We would like to extend our deep gratitude to our trustees, patrons and supporters, without whose support we could not continue our work.
Runnymede is a registered charity.
No. 1063609
Runnymede is a company limited by guarantee, registered in England.
No. 3409935
Sorry, there are no upcoming events