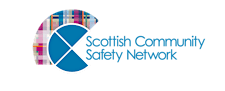 Scottish Community Safety Network
The Scottish Community Safety Network (SCSN) brings together people who are involved in community safety in Scotland to work towards its vision that:
People are safe from crime, disorder, danger and free from injury and harm; and communities are socially cohesive and tolerant; are resilient; and able to support individuals to take responsibility for their wellbeing.
As a registered charity (SC040464) and a Company Limited by Guarantee (SC357649) , SCSN's company objectives are set out in the Memorandum and Articles of Association:
The advancement of citizenship and community development through the development and promotion of community safety practice on a wide range of issues  for the benefit of the public in Scotland and elsewhere as appropriate; and
The advancement of education through raising awareness of community safety practice and wellbeing for the benefit of the public in Scotland and elsewhere as appropriate.
The SCSN is the national forum for officers who are responsible for the strategic development of community safety at both local and national level.  Over recent years the organisation has expanded its network to engage more effectively with police forces, fire and rescue services, health organisations and other organisations involved with Community Safety Partnerships. In 2019 we became an umbrella organisation for community safety, also hosting Neighbourhood Watch Scotland and Home Safety Scotland.
SCSN has also been striving to be an effective "strategic voice" for community safety sector in Scotland with a view to embedding community safety and partnership working as a way to achieve a cultural change in behaviour and working practices within community safety organisations.
Sorry, there are no upcoming events