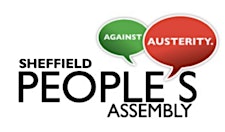 Sheffield People's Assembly
END AUSTERITY NOW.
There is no need for ANY cuts to public spending; no need to decimate public services; no need for unemployment or pay and pension cuts; no need for Austerity and privatisation. There IS an alternative.
We need a government to reverse damaging austerity, and replace it with a new set of policies providing us with a fair, sustainable and secure future. We can no longer tolerate politicians looking out for themselves and for the rich and powerful. Our political representatives must start governing in the interests of the majority.
Sheffield People's Assembly is one of about 100 local People's Assembly groups across the UK.  
If you would like to become involved in our campaigning work, please email us at sheffieldpeoplesassembly@gmail.com
Sorry, there are no upcoming events