SIITS
Please use the #siits tag (double 'ii') to talk about this summit on twitter.
---
S.I.I.T.S.
Scholarly International Infrastructure Technical Summit
Sharing real world experience between operational technicians (CTOs, Chief Architects, Lead Developers, Head System Administrators, DevOpps Managers, Web masters, etc) so as to assure that internationally we are not wasting funding agency/organisation money by repeating efforts i.e. saving technical operational money by learning from each other's previous experiences (both mistakes and successes).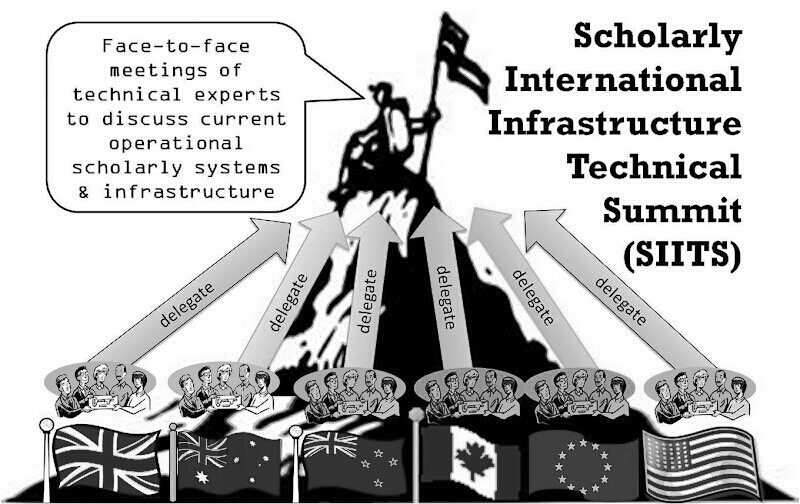 ---
Previous SIITS Meetings:
SIITS at dev8D, February 2010 in London, England
SIITS at DLF, November 2010 in Palo Alto, California
SIITS at OAI7, June 2011 in Geneva, Switzerland

SIITS at eRes2011, November 2011 in Melbourne, Australia

SIITS at OKCon, September 2013 in Geneva, Switzerland

(FUTURE) SIITS at WWW2014 in Seoul, Korea
Reports, notes and blog posts from previous meetings:
'Report to Funders' from the 2011 meeting in Melbourne



Previous Chairs of SIITS Meetings:
Dr. Les Carr, University of Southampton
Tom Cramer, Stanford University
Dr. Rob Sanderson, Los Alamos National Laboratories

Brad McClean, DuraSpace Foundation

David F. Flanders, University of Melbourne
---
FAQ
Q: What will SIITS meetings be about and what will their agenda be?
A: SIITS meetings will be run according to an "Open Agenda", see bit.ly/TheOpenAgenda. If you plan on attending a SIITS meeting you will need to read and understand the format of the 'open agenda' as you will be asked to agree upon it prior to participating in a SIITS meeting. 
Q: Who are SIITS meetings for (who should attend and what kinds of topics will be addressed)?
SIITS meetings are specifically for operational technicians (lead developers, chief technical officers, head system administrators, developer operations managers, web masters and other technical roles involved in the day-to-day operations of maintaining a scholarly system).  Participants should be actively working on large scale scholarly systems and digital infrastrcuture that are reused by multiple partners.  These meeting are intended to be reflective on technical operations currently taking place in these major infrastructure systems (these meetings are not intended to strategise future potential technical components, but rather stay focused on the real experimental technical activity currently taking place in the now).  Topics addressed will primarily be operational technical experience with new system components, e.g. reusable code components (e.g. Apache projects, code libraries), frameworks (e.g. django, rails), patterns (e.g. ETL, noSQL), architectures (e.g. OSGI, ApacheMQ), and paradigms (e.g. ReST, linkeddata), etc.
Q: Why should I attend a SIITS meeting, what will I get out of it?
A: It has been recognised internationally that reusable scholarly systems utilise a diversity of infrastructure components to achieve the services they provide.  Often new components are tested and trialled in numerous places around the globe without discussing how another international scholarly partner is getting along with implementing one of these components.  SIITS meetings should result in real face-to-face contacts for operational technicians that will mean further discussion can take place so that reusable component parts are not being trialled in isolation.  SIITS meeting will result in further intimacy and trust between people so that less mistakes and redundancies occur therefore saving time, ergo money.
Q: When do SIITS meeting occur, how often, when and where?
A: SIITS meetings occur once or twice a year and are bootstrapped onto significant events in the scholarly technical community, e.g. conferences, forums, etc.  SIITS meeting will be announced well in advance and a sign up form for attending will be made available for anyone to attend who feels they represent operational technical experience. Places will be limited to less than a dozen people to assure the conversation is focused and all voices heard.
Q: What is the significance of the SIITS acronym?
A: The reason for the "SIITS" acronym comes from the simple observation that when two or more operational technicians sit down with one another and look over each other's code to the point where they trust the code, then that is the moment of achieving interoperability.  The SIITS meetings hopes to further encourage operational technicians to SIT down with another to share experience of their ideas with one another.
Q: How can I sign up to receive notes from SIITS meetings?
A: Please email Dr. David Tarrant who is currently the secretary of the group, he will provide updates on when the next meeting is going to occur as well as any reports, note or guidance on expectations for participation in the meetings: dct05r@ecs.soton.ac.uk