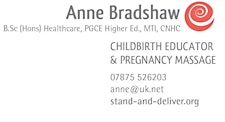 Stand and Deliver
Stand and Deliver is based in Worcester, and is a sole proprietorship in the name of Anne Bradshaw. Stand and Deliver started up in 2006 after Anne decided to become an Independent Childbirth/Antenatal/Parenting Consultant, after many years teaching for National Childbirth Trust, as an Associate Midwifery Lecturer, and NHS Parent Education Consultant.
The team consists of Anne Bradshaw (Proprietor/Manager) and her daughter Lydia Healy (Deputy Manager/Assistant). Lydia is a qualified children's singing teacher, and a nursery nurse.
Mission Statement
• To deliver informed antenatal/parenting education supporting parents in having a birth/parenting experience where both parents and babies have increased confidence in the birth process and in being parents.
• To deliver Parent & Baby/Toddler sessions a safe environment so that parents can socialise and babies/toddlers can play and thrive socially and emotionally
Sorry, there are no upcoming events