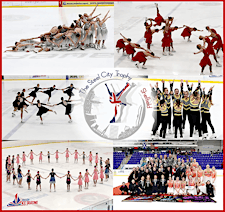 Steel City Trophy - International Synchronized Skating Competition
About The Steel City Trophy
The Steel City Trophy is an international synchronized skating competition, now in its second year. It offers spectators the chance to watch world class teams compete in an Olympic-sized venue with allocated seating for up to 1,500 spectators per day, over 3 days in March 2020.
The inaugural event in 2019 received glowing praise from skaters, coaches, judges and technical panel alike, as well as spectators who enjoyed watching and cheering on the participants as they competed to win medals described as 'the best skating medals we've seen!
Including categories from Beginner right up to Senior, and having attracted 78 teams in its second year, the Steel City Trophy 2020 is an event that's fun for all the family to watch.
Teams from 11 different countries will take part in 2020, including Australia, Austria, Belgium, France, Germany, Great Britain, Italy, Netherlands, Norway, Russia and Sweden.
The synchro skating community is a warm, friendly and welcoming place, and the organisers look forward to greeting you and your family and friends in Sheffield!
 The Steel City Trophy 2020 Schedule
Please select the correct date from the list below before purchasing tickets. The skating schedule is as follows:
Saturday 7 March: Inclusive, Mixed Age, Juvenile, Junior (short), Senior (short)
Sunday 8 March: Adult, Advanced Novice, Junior B, Senior B, Junior (free), Senior (free)
Monday 9 March: Intermediate, Basic Novice, Beginner, Pre-Juvenile
Please ensure you select the correct day and date for your tickets. Separate tickets must be purchased for each day of the competition.
More details, including accommodation options, can be found on our website at https://www.sheffield-synchro-skating.co.uk/steel-city-trophy. We look forward to welcoming you to Sheffield!
About the Sheffield Synchronized Skating Academy (SSSA)
The organisers of the Steel City Trophy, the SSSA is a not-for-profit sports club based at the iceSheffield Ice Arena. Welcoming ice skaters of all ages, the SSSA currently has four teams taking part in synchro skating competitions across the UK and Europe, with a new development team for those just starting out on their synchro journey.
Our Mission is to provide a development pathway from "Learn to Synchro" through to National and International Competition.
Male and female ice skaters are welcomed into the Club at any level above Skate UK level 8, with the aim of developing skills and progressing through the team levels together. The SSSA promotes teamwork, helps members to develop confidence and instills the discipline of working hard to achieve a goal through training and competing together.
Not only does the SSSA focus on developing individual skating skills, the discipline of striving to be the best that they can be, together, develops life skills too – with many team members making long-lasting friendships outside of school and work.
We train regularly and are a friendly, welcoming club - so if you can skate and would like to join, please get in touch!
Sorry, there are no upcoming events