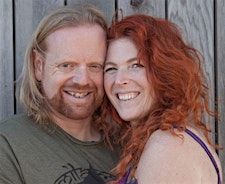 Sy and Ash
We are Sy & Ash and we love holding and creating spaces for playful and conscious connections. 
We have been doing this for more than 10 years in the UK and internationally. We are now Brighton based and want to bring our special kind of magic to this amazing city.
We are passionate about empowering all of us to Be More in all aspects of our lives, bringing more connection, awareness, presence and pleasure to every moment.
We have over 20 years of experience in many different spiritual and self development practices and we love to create space for you to explore yourself through breath, dance, sound, laughter, movement, touch, energy, connection and play.
Come and Be More!
Sorry, there are no upcoming events