Talking To Teenagers
About me
I am a trauma trained therapist for both Adolescents and adults. I am PODS  trained and my continued professional development is from the leading professionals in the trauma field such as Dan Siegel, Janina Fisher, Alan Schore, Dan Hughes. I am a member of the International Society for the study of trauma and dissociation.
I work with people who have experienced developmental trauma such as childhood sexual abuse, domestic violence, neglect.
My clients have usually experienced a long process of therapy and medication that treats the symptoms of trauma, but not the trauma itself. Typically trauma survivors have been misdiagnosed and misunderstood.
I provide training and guidance for schools on the topic of trauma and provide a service for schools to become more trauma-informed, providing the right nurturing environment to enable those children to learn. 
I also work with young people to help them find a way through their struggles and support them to explore and process life events that they may find difficult to work out alone.
Feedback from my clients has been that counselling has given them insight and awareness into the struggles that they are facing.
It provides a space to reflect on their experience and how this impacts on their behaviour and relationships. My clients have also reported feeling a new sense of hope and resilience in tackling everyday life.

A big percentage of my counselling work is anxiety-related, teaching the client what happens in the body and brain when anxiety occurs, exploring what the triggers are and how to deal with the overwhelming feelings when they occur.
By understanding how anxiety works, you can then understand why you feel that way and it will help you to break the vicious 

I also work with anger and depression in teenagers allowing the young person to talk about sensitive issues that they may feel unable to disclose to adults and peers close to them. 

Teenagers experience a lot, from transitional phases such as a changing body, finding their own sense of self and belonging, becoming independent and stresses with educational exams and tests...counselling can help with all these issues. 

Sometimes young people find it difficult to sit face to face and talk about their difficulties and for this reason, I also offer to walk and talk in environments that are therapeutic in themselves.

I also work with cognitive behaviour therapy to deal with
Anger
Perfectionism
panic disorder,
Social anxiety,
phobias,
illness anxiety,
generalized anxiety  (GAD) This is the feeling of being anxious about almost everything and anything!! Often, people affected by GAD will feel overly worried about a wide range of things including:
Your performance at school
Things that are happening at school or at home
Worrying about worrying!
Self-harm

I have worked frequently with Clients with special educational needs and understand what challenges this brings in school and home life. I have also worked with school refusal to help the young person integrate gradually back into school. School is often not the place that young people want to be spending their time anyway.
However, many people experience a complete sense of dread when it comes to going to school.
This is very different to simply not wanting to go to school. Going into school when you have school phobia can make you feel very anxious and panicky.. counselling can help with this.

My service is confidential, warm and non-judgmental giving you the supported space to work on any issues you choose to bring to counselling. 

I undertake workshop training and invest a lot of time in continued professional development. I attend regular clinical supervision to ensure I am working ethically with my clients and attend self-development groups for continued personal growth.
I provide therapy for children and their families post-adoption in Cumbria.
I have published a parenting book titled Talking to Teenagers.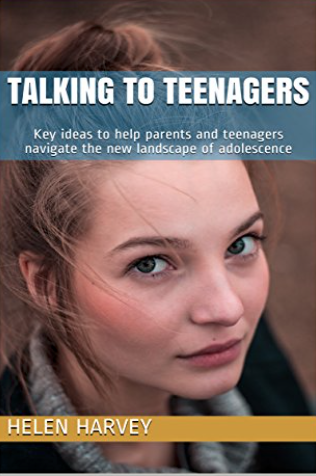 https://www.amazon.co.uk/Talking-Teenagers-teenagers-landscape-adolescence-ebook/dp/B07BKMXH45/ref=sr_1_2?ie=UTF8&qid=1535807436&sr=8-2&keywords=talking+to+teenagers
In addition, I also run an online course, providing access to regular support for teenagers and their families.
More information can be accessed at www.talkingtoteenagers.co.uk 

Testimonials

Our daughter had been struggling with all the usual teenage angsts and issues, but nothing that we really thought out of the ordinary. Then she broke up with her boyfriend, that seemed to be the final straw. She said she wanted to see a therapist; I thought this was a bit extreme and wasn't too sure how her Dad would take to the idea. Then I discovered that she'd been self-harming. I found Helen through the counselling directory, and am so very glad we did.
The difference in our daughter has been amazing. She is so much more pleasant to be around, gone is the "so unfair" teenager. The relationship between her and her Dad has improved no end. The most important difference, however, has been in her own disposition and state of mind; her whole outlook on life is so much better; she is in a happy place within herself.
We are all so grateful to Helen, the help and guidance she has given our daughter has improved all our family life.
Training, qualifications & experience
My training is a degree in Person-Centred therapy 

Postgraduate certificate in evidence-based psychological approaches (cognitive behavioural therapy)

I welcome clients from the ages of 11 - 21 Parental/legal guardian consent is required for anyone under 14 years of age.




Working with children and adolescents diploma (ongoing)


Working with sexualised trauma 

Safeguarding level 3

Introduction to mental health

Drug use & misuse - level 2

Family link Parenting certificate

Aspergers 'What Now' course

Adolescent Suicide 
Dealing with distress - working with self-harm and suicide (PODS training)

Trauma, Dissociation & Recovery (PODS Training)

Traumatic Attachment & Co-Regulation: The Neurobiology of Relationship

Childhood Sexual Abuse (PODS Training)

Dissociation and DID: The Fundamentals (PODS training)

Trauma and the Body (PODS training)

The Latest in Trauma Treatments: Diagnosis, Neuroscience & Best Practices

Complicated and Traumatic Grief: Clinical Interventions for Healing 


I am a member of the British Association of Counselling and Psychotherapy (BACP) and work within the ethical guidelines.