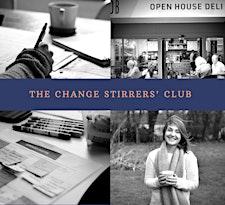 The Change Stirrers' Club
The Change Stirrers' Club is having a holiday!
We won't be on in June but will be back soon. 
Stay safe and well 'till then!
------
The Change Stirrers' Club is for entrepreneurs, startupfounders, small business owners and freelancers who want to use their business to make the world a better place.
It is designed to bring transformational and affordable business coaching to those who want their busienss to be a force for good, whether that's through trading ethically or sustainably, through putting people at the heart of their business, through trying to tackle societal or environmental challenges or through supporting their local communty.
---
The Change Stirrers' Club meets once a month to focus on different business topics such as strategy, work/life integration, attracting clients and leadership.
Previously we met at Open House Deli, now we meet online via zoom.
---
It is a fun, action-orientated and supportive group that has an open door policy to anyone who feels that they match the description.
There is no subscription and you are welcome to attend as frequently as suits you.
To be part of our commiunity and benefit from support in between sessions, join our FB group 'The Change Stirrers' Club'
---
Katie Newman, the founder, is a professionally qualified coach and NLP practitioner who has spent many years working in both large and startup mission-led businesses. Her passion lies in helping individuals and businesses, who are out to do good, to not only survive but also to flourish. 
Find out more about her and her work on her website.
Sorry, there are no upcoming events