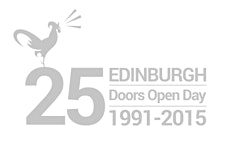 The Cockburn Association
This year marks the 25th anniversary of The Cockburn Association's Edinburgh Doors Open Day. For 25 years we have provided the chance to explore some of the city's most architecturally and culturally significant buildings - all for free.  From heritage landmarks to the city's newest architecture, Doors Open Day has offered free access to properties, places and spaces that are either not usually open to the public or would normally charge an entry fee.
Edinburgh Doors Open Day 2015 has adopted a theme of food and drink, as part of food and drink Scotland 2015. Please join us in our programme of events that celebrate Edinburgh's architecture and natural environment by taking part in planned talks, walks and tours, along with visiting new venues that explore the city's food and drink scene, past and present.
Sorry, there are no upcoming events